Deep Tissue Muscle Massage Gun - 6 Heads + LCD Touch
#1 Best Seller
In Stock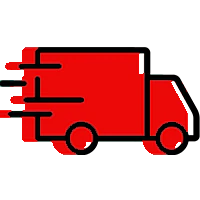 Fast Shipping to:
Your information is 100% secured

Deep Tissue Muscle Massage Gun - 6 Heads + LCD Touch is the perfect massage gun for an intense deep muscle massage. This personal handheld massage gun helps you overcome muscle soreness, relieve body fatigue, combat stiffness and spasms. Just enjoy the deep tissue massage and relax at home, the office or during a long trip!
Ranked Massage Gun Trusted By Champion Athletes: The massage gun is used by Professional, Collegiate, Highschool, and even youth teams. Powerful and quiet. Look closely you will see this massage gun on the sideline, in the gym, or in the Physical Therapist Office. Because it is portable, quiet, easy to use and proven, ie is the #1 Brand. The 30-speed dial and 6 attachments make the massage gun usable for anyone with sore muscles! We can help the pro in you excel!
6 Massage Heads, use on any body part
Suitable for thick muscle tissue
 Suitable for cervical vertebra massage
Suitable for massaging body joints
Suitable for full-body muscle massage relaxation
3 Speed setting, intelligent safety protection
Level 0 to Level 3, (pulse frequency 1200 rpm/min- 3200 rpm/min).It'll shut off after about 30 mins to avoid over-use or potential hazards To restart, just turn it on again.

P0:

 

0-30 Speeds - Adjust according to your needs.
P1:

 

6-10 Speeds - Automatic cycle work
P2:

 

16-20 Speeds - Automatic cycle work
P3: 26-30 Speeds - Automatic cycle work
Super Silent 
With super silent technology, you can barely hear any noise while using it (20- 39 Db).
WHY CHOOSE OUR MASSAGE GUN?
Overall relaxation
Regain body after training
Help the practitioner to comb the fascia, promote blood lymphatic reflux, and restore the normal shape of the muscles

Charging time:

2–3 hours
1-2 hours working time:

2400mAh lithium battery

More smooth and quiet:

 Deep Muscle M

assagers with high-precision mould, make the machine head and the body tightly connected. The noise in the process of running can be effectively reduced by smooth sliding, Our massagers are quieter compared to 60-decibel massagers from competitors.
Usage:
For back pains and muscle stiffness. Choose to start massage from Low grade or Medium grade mode.
Massage Head: 
Ball Head: Used for large muscle groups - Back, chest, hips

Spade-haped Head: Used for the whole body bones muscle relaxation 
U-Shape Head: Used for the spine, neck, shoulder (sensitive muscles or bony areas)
Flat Head: Used for all parts of the body: waist, back and arm
Thumb Head: Used for soft tissue areas
Soft Tissue Head: Used for deep tissue areas: tendons, joints, palms, soles
Package Included:

1x massage gun

4x massage head

1x power charger
Where can we deliver the package to?
We can ship to most countries in the world. 
Countries not shipped to include: South Sudan, Palestine.
What are the shipping times?
It takes around 24 to 48 hours for the order to get processed. After your order has been processed, it takes around 7 to 10 business days for the item to be delivered.  There can be delays beyond our control such as customs and postal service delays.  All items are shipped by from New York, USA. 
What is the shipping cost?
We charge a flat-rate shipping fee of $19.95 per order.